About BreastFedNZ
Haere Mai, welcome, to BreastFedNZ. The purpose of this app is to provide simple 'in the moment' support and information to help women and their babies, alongside their partners and support networks, achieve their breastfeeding goals from birth to weaning.
There are six chapters, all covering key phases of breastfeeding. Just tap on the chapter you want and scroll down the index to find what you need. As simple as that!
This app has been written with a conversational style so it is more personal for the reader. It includes personal stories and photos from mothers throughout their breastfeeding journey, as well as links to other networks and organisations for further information.
The team who helped put it together:
App production was managed by Suzanne Andrew, Project Manager, HealthShare.
Artwork by Toby Rutter, Toby Rutter Design Services.
Graphic design and layout is by Samantha Saunders, Sami Designs.
Mentorship from Louise Harvey, Toi Te Ora – Public Health Service
Content primarily written by Karen Palmer for the Midland Maternity Action Group, with the help of her colleagues within the Midland region.
Utilisation of a number of resources developed in print form by a variety of people within the Midland District Health Boards.
Advice and critique by a wide range of fellow health professionals, organisations and consumers.
More about Karen –

''I started my working life as a young nurse in paediatric and neonatal nursing, and this was my first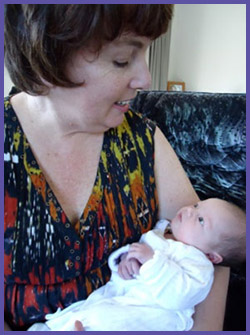 introduction to breastfeeding. I then followed up with midwifery and lactation consultancy, in-between becoming a mother to four children (all breastfed). I well remember my early days of mothering and establishing breastfeeding. They were profound times!
I have recently become a grandmother to the first of many (I hope) grandchildren. This experience has awakened a perspective of today's young mothers through the eyes of my daughter and her peer network.
I spent many years working as a midwife in the community, helping mothers through their pregnancy, birthing and mothering experiences. I have a passion for breastfeeding and supporting women and their partners to parent the best way they know how.
This app has been written as if I was 'in your house', giving information and support. The information is based on my experience and knowledge, all with a grounding of research and evidence based practice, alongside mentorship from some very talented people (Fiona, Debbie and Alison to name a few)."
Karen Palmer, RN, RM, IBCLC
The team would like to acknowledge the generosity of the mothers, partners, whanau and family who shared their stories and photos with us. You all rock!
Midland Maternity Action Group
The Midland Maternity Action Group (MMAG) was established in 2011 and involves many stakeholders from the five Midland DHBs (Bay of Plenty DHB, Lakes DHB, Tairawhiti DHB, Taranaki DHB and Waikato DHB) who provide and/or support the delivery of maternity services for the region. MMAG's primary purpose is to lead regional activity, including implementation of maternity actions on behalf of the Midland DHBs, and to provide expert technical advice to the DHB CEOs. A  focus is on sustainable service delivery through quality improvement and workforce development activities.
HealthShare Ltd
HealthShare Ltd (HSL) is a shared services agency owned by the five Midland DHBs. HSL works in a collaborative partnership with staff from Midland DHBs as well as with health organisations partnering to provide services to the  District Health Boards.
HSL's activities are to support Midland DHBs with the collective development of regional direction and change through regional plans, clinical service change through the development of new regional clinical networks to implement regionally consistent models of service and pathways of care, development of the region's workforce and information systems and back-office service to drive efficiencies at a regional level.
Midland District Health Boards

Bay of Plenty DHB, Lakes DHB, Tairawhiti DHB, Taranaki DHB and Waikato DHB were established on 1 January 2001 by the New Zealand Public Health and Disability Act 2000 (NZPHD) and are five of 20 DHBs in New Zealand.  DHBs have been established as vehicles for the public funding and provision of personal health services, public health services and disability support services for a geographically defined population.  Bay of Plenty DHB, Lakes DHB, Tairawhiti DHB, Taranaki DHB and Waikato DHB are Crown Entities and are accountable to the Minister of Health.
Collectively the five DHBs are described as the Midland DHBs – a region that  plans and works together for the greater good of a collective population of 884,088 people, including 224,115 Māori (25%) and 43 local iwi groups. The Midland region covers an area of 56,728 km2, or 21% of New Zealand's land mass, stretching from Cape Egmont in the West to East Cape and is located in the middle of the North Island. It includes the major population centres of New Plymouth, Hamilton, Rotorua, Tauranga and Gisborne. More information about Midland DHBs and how we are working together can be found in our 2015-18 Midland Regional Services Plan.
Background Information
The initial objective of the app was to find a more consumer friendly way to support the work of Baby Friendly Hospital Initiative (BFHI) and the Ten Steps to Successful Breastfeeding (The Ten Steps).
During 2013, the NZ Institute of Rural Health was commissioned to carry out the 'Midland Region Rural Maternity Services Consumer Engagement Study'. The study recommended the need for a mobile phone app for pregnancy and birth which should be provided free to newly pregnant women.
Combined, these two needs and recommendations provided the catalyst for the Midland Maternity Action Group (MMAG) to forge ahead with the development of the breastfeeding app .